Plywood Manufacturer China
About Us
S&J is a certified FSC plywood manufacturer and exporter in China, headquartered in Shanghai and multiple manufacturing sites across Jiangsu and Shandong Province of China.
As a leading company in the panel products industry, our products delivered to all major markets such as Europe, US, Australia, Gulf Countries, South Africa and many more.
In S&J, our purpose is building a better world through utilizing sustainable resources. We sourced our raw materials from Chain of Custody certified organization and also grow our own wood through our Forest Management certified plantation. Through our sister company Green Forest (China), we are manage close to 7000 hectares of Poplar tree plantation to be use as our sustainable raw materials.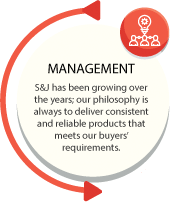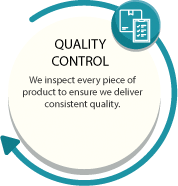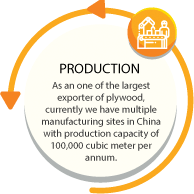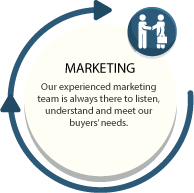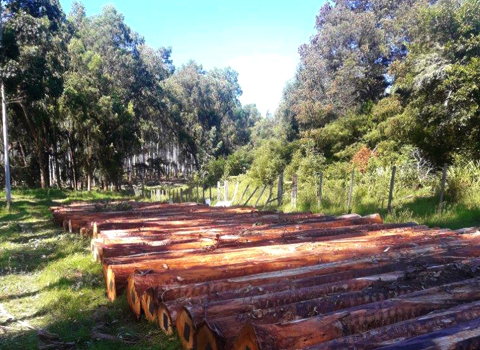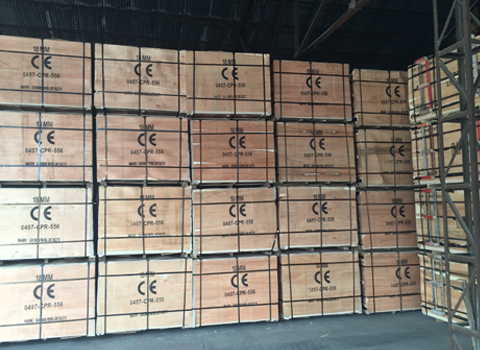 Why Choose Us
S&J is a choice that make the difference.
S&J is committed to understand and accustom to our clients requirements on the products that fit into their objectives. As a leading company in the industry, we are delivering the best products to our customers based on their needs, in areas from interior and exterior constructions and furniture applications.
Attention to Details.
Our production and QC team have had high expectation on every sheets of plywood that we delivered. We adopted Quality Assurance ands Quality Control systems which we developed based on the ISO9000 standard, we always ensure quality is our top priority.
Sustainability is Our Philosophy.
We are committed to protecting the environment. We are aim to delivering certified products through our source of certified materials. S&J through it's sister company Green Forest (China), managing close to 7000 hectares of FSC and CFCC certified plantation that use for our productions.
Experienced and Pioneering.
S&J is an experienced company who servings multinational companies and major regional distributors. Our plywood are produced to meet international standardssuch as EN636 Class 2, Class 3, AS6669, CARB P2, EPA and CE. We are also innovated in producing plywood that meet 3rd party certification scheme such as QMARK plywood.
FSC™ Management

This system of accountability ensures that our plywood products come from responsibly managed forests providing environmental, social and economic benefits to everyone. We believe in choosing products that contribute to both global conservation as well as economic growth.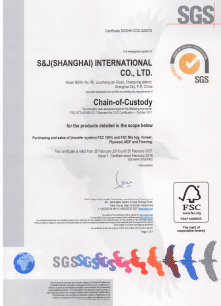 CARB II/EPA

Beginning January 1, 2013, the U.S. Environmental Protection Agency (EPA) began to enforce formaldehyde emissions rules and standards for all manufactured forest products in the United States. Our factories follow the California Air Resources Board II (CARB II) measures which aims at reducing formaldehyde emissions from composite wood products.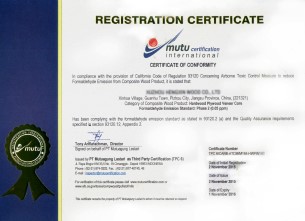 Q-Mark Certified

Warped wood? Weak boards? These are not our Q-Mark authorized quality products which are resistant under strong pressure. Our plywood products pass a rigorous certification process to meet our buyers' needs especially required for outdoors, construction and renovation.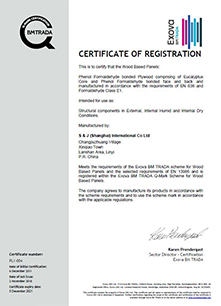 ISO 9001 Standard

It is important for us to have continuous internal audits to comply with international industry standards. Our factories practice these safety and quality management standards and are ISO 9001 certified.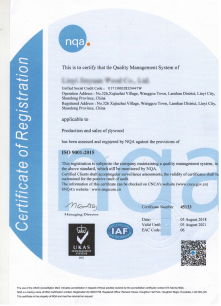 CE Compliance

Conformité Européenne or CE compliance is a mandatory conformity marking for our plywood products exported within the European Economic Area from 1985. S&J manufactures these products to export 100% tested and marked as environmentally safe and sustainable products to meet our buyers' standards in Europe.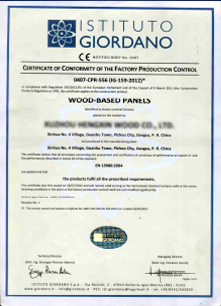 JAS-ANZ

Accreditation is a symbol of assurance—a valuable asset in itself. The JAS-ANZ symbol is a mark of quality and reliability. It flags that a certifier or inspector can be counted on to impartially determine if organisations, products and people conform to specified requirements. This gives certifiers, inspectors and their client organisations a competitive edge.